John Anealio is science fiction music's rising star. Since around about the same time I began my little blog, John has been leveraging his talent for music to create songs about science fiction. As a result of his efforts, the Sci-Fi Songs blog of free and original science fiction music was born. Though not a prolific blog, John produces original music and songs based on books, movies, TV and the occasional goings on in the SF community. Now, after a few years of producing oft downloaded songs, John has produced his first CD, aptly titled Sci-Fi Songs.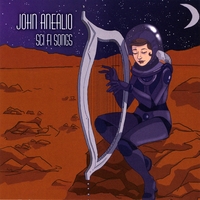 With excellent cover art by Ashley Quigg of a space-suited woman playing harp in a harsh red landscape, the one man band of John Anealio covers the gamut of musical styles from bluegrass to rock to peaceful instrumentals.
The first song on the CD is "The Return of Titus Quinn". This particular instrumental, with its soothing melody and short duration is based on Kay Kenyon's novel Bright of the Sky
in which the titular character and his family are thrust into a parallel universe and then returned to our own only Titus Quinn is alone when he returns. It is an interesting choice for an opener, as it has a sad, melodic sound, but the unladen-with-accompaniment guitar really conveys the sense of loss and loneliness that Titus feels in the story.
"Rachel Rosen" is a musical question inspired by Philip K. Dick's "Do Androids Dream of Electric Sheep/Blade Runner
". The music is a mixture a repeated harmony on the acoustic guitar interspersed with electric guitar riffs. The music conveys a sense of hopefulness, of a hope that the supposed android could really be human.
Based on Gregory Frost's Shadowbridge
/Lord Tophet:
duology, "Leodora" is a guitar/piano musical piece that also has a great sense of hopefulness. It's a love song from the character Diverus to Leodora. It's a reassuring melody, and as I listened I felt the electric music soothing me, assuring me that no matter what I might encounter, all would be well.
Anealio gets on the Battlestar Galactica
bandwagon with "Cylon #6". For those who haven't seen the show, Cylon #6 is the woman who appears in all the BSG promotional material, portrayed by actress Tricia Helfer. This particular song comes from Baltar's (the man she has wrapped around her fingers) point of view. With this song, we move into a more rock styling on the CD, with a little bass background, a guitar solo, and a simple beat kept by a snare drum and cymbals.
The lyrics for "Summer Glau" were written by John DeNardo of SF Signal as a love ode to the actress who has appeared in Firefly, Serenity, The 4400 and more recently in a lead role in the TV version of the Terminator franchise. It becomes fairly obvious just how DeNardo feels about Glau, and Anealio's hard(ish) rock musical style conjures up memories of hearing many great rock love stories as captured in song.
"Angels and Vampires" is inspired by Anne Rice's Memnoch the Devil
, which from the song seems to involve at least one self-hating vampire. This is a serious song built on metaphor. Electric and Acoustic guitar are intermingled together in such a way that I am reminded of the light rock of Simon and Garfunkel, but with 1980's technology. When the song concludes with an electronic keyboard solo, this perception was solidified.
"Lonesome Night in October" is inspired by Roger Zelazny's Nebula award winning novel A Night in the Lonesome October
in which various characters from Victorian gothic fiction play a "game" each October to prevent or cause the world of magic to mesh with the "normal" world. This particular tune has a bluegrass sound. Anealio includes a harmonica for punctuation and acoustic guitar to progress the melody.
The rock melody sound returns in "Sarene", based on Brandon Sanderson's Elantris
. This is a fantasy song that really sounds like it could have been produced by bands like Semisonic or Train. The song has a bit of space age keyboards mixed with southern rock guitar and is probably the most musically strange song of the CD. But yet for all the admixture of elements, it comes off great and it is a real joy to listen to.
The only other instrumental piece of the CD is "Merithyn's Promise", inspired by Elizabeth Haydon's Requiem for the Sun
. Anealio picks at his acoustic guitar to produce a melody with a Celtic/coffeehouse sound. It is beautifully peaceful, and could very well be played in any tavern of your fantasy imaginings.
"The Millennium Falcon for Christmas" obviously has its roots in Star Wars. The song is a tale of a memory of wanting a toy Millennium Falcon, but being unable to get it. The song sounds like the work of Jack Johnson with a bit more of an edge. And since the story comes from the early 80's, it was clever of Anealio to include the sound of bells with a distinctly 80's electronic sound.
You may notice that the title of the final song on the CD bears a striking similarity to the title of this blog. That is because "Grasping for the Wind" come out of the first version of my linkup meme, and is a fun little ditty that lists some of the names of the blogs on that list. It is gratifying to note that most of those blogs are still in existence and growing strong. The music is really catchy, even though you would think the topic would be downright dull. I get a chill every time I listen to this song as the thrill of knowing that something I started could get turned into a song!
I want to close this review by thanking John for including me by name in his thank you's in the CD booklet. For those of you on the fence about purchasing this CD, you should know you are missing some great music, all compiled, edited, and written by the one man studio that is John Anealio.
Anealio has made himself the next Jonathan Coulton, and his work in filk has set the bar that others who write filk are still grasping to achieve.
FYI: Many of the lyrics for the music (as well as other free mp3's of more music) can be found HERE.